A Win And A Second Place For Rea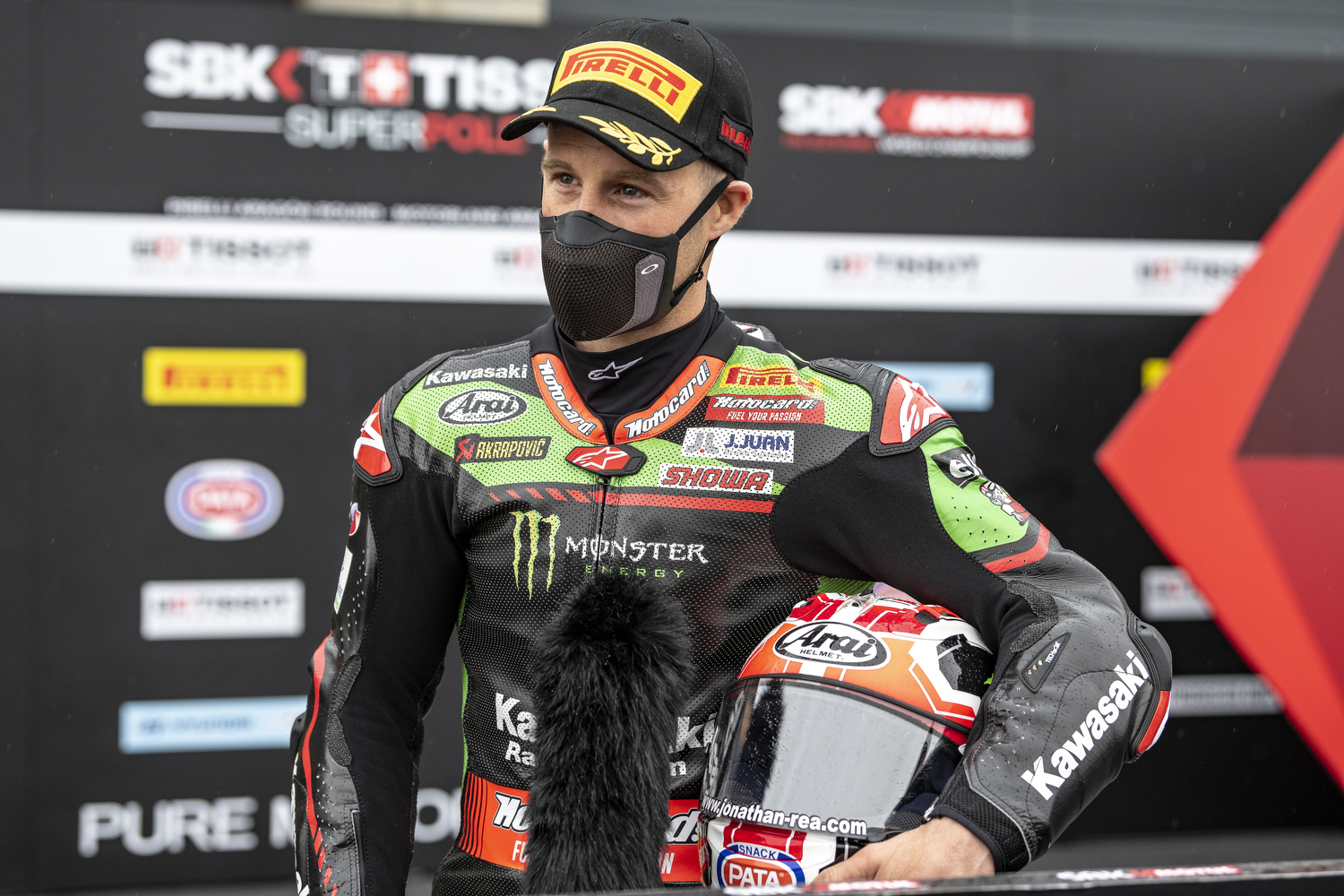 Jonathan Rea scored another race win in today's ten-lap Tissot Superpole race at Motorland Aragon and followed that up shortly after with a second place in WorldSBK race two. Rea leaves the first round of the FIM Superbike World Championship in the lead by 12 points over Kawasaki team-mate Alex Lowes, following his two wins and a podium on the opening weekend of the season.  
After two dry days at Motorland rains appeared on Sunday morning, making the warm-up session fully wet. The ten lap Tissot Superpole 'sprint' race and then the final 18 lap Race Two were held in slightly different, if changeable conditions, where tyre choice proved to be even more important to the final results than normal
In the ten lap Superpole race at 11.00am Rea used his pole position starting place to full effect, only being demoted for a short time before taking back a lead that would grow to 3.5 seconds over Lowes at the flag.
Race Two proved to be more or less dry on the racing line, Scott Redding (Ducati) chose slick tyres whilst most others opted for an intermediate tread pattern.  The gamble paid off and Redding took his first win of the year.
Rea was a clear second despite being pushed off track when another rider ran in too hot during the approach to a corner. Fortunate not to fall, Rea got going again from fifth place to work his way into a final second place and finish off a superb weekend - highlighted by reaching an unprecedented career total of 100 race wins on Saturday. He now has 101 race wins in total after his subsequent Superpole race win on Sunday.
After a very strong start to the season with the new Ninja ZX-10RR, Rea leads the standings with an almost perfect 57 points, Lowes has 45 and Redding 40. Kawasaki leads the manufacturers championship by 13 points after round one.
The season opener at Aragon will be followed by the Estoril Round in Portugal, between 28-30 May.
Jonathan Rea said:  "I am really content with the weekend because to win the first race of the season was 100 times better than last year, and also to claim my 100th victory was a real target of mine. Today, I never experienced conditions like this in my whole career, where it really is a big tyre choice by the minute. Every minute it changes. With three minutes to go in race two I was asking Pere if they still had slicks on the grid! The Superpole race was the first time I had ever raced the intermediate tyres so huge kudos to Pirelli. I decided after that experience to use that tyre choice in the final race as well. It was the safest option. It wasn't the right one, but it was the safest one, for sure. The majority of the grid had that combination. I realised that I was going to race for second but second feels like a win. The only way we could have been more competitive is with the right tyre choice. From that point of view I am really happy and excited for Estoril next week."