Victorious Suzuka 8 Hours For KRT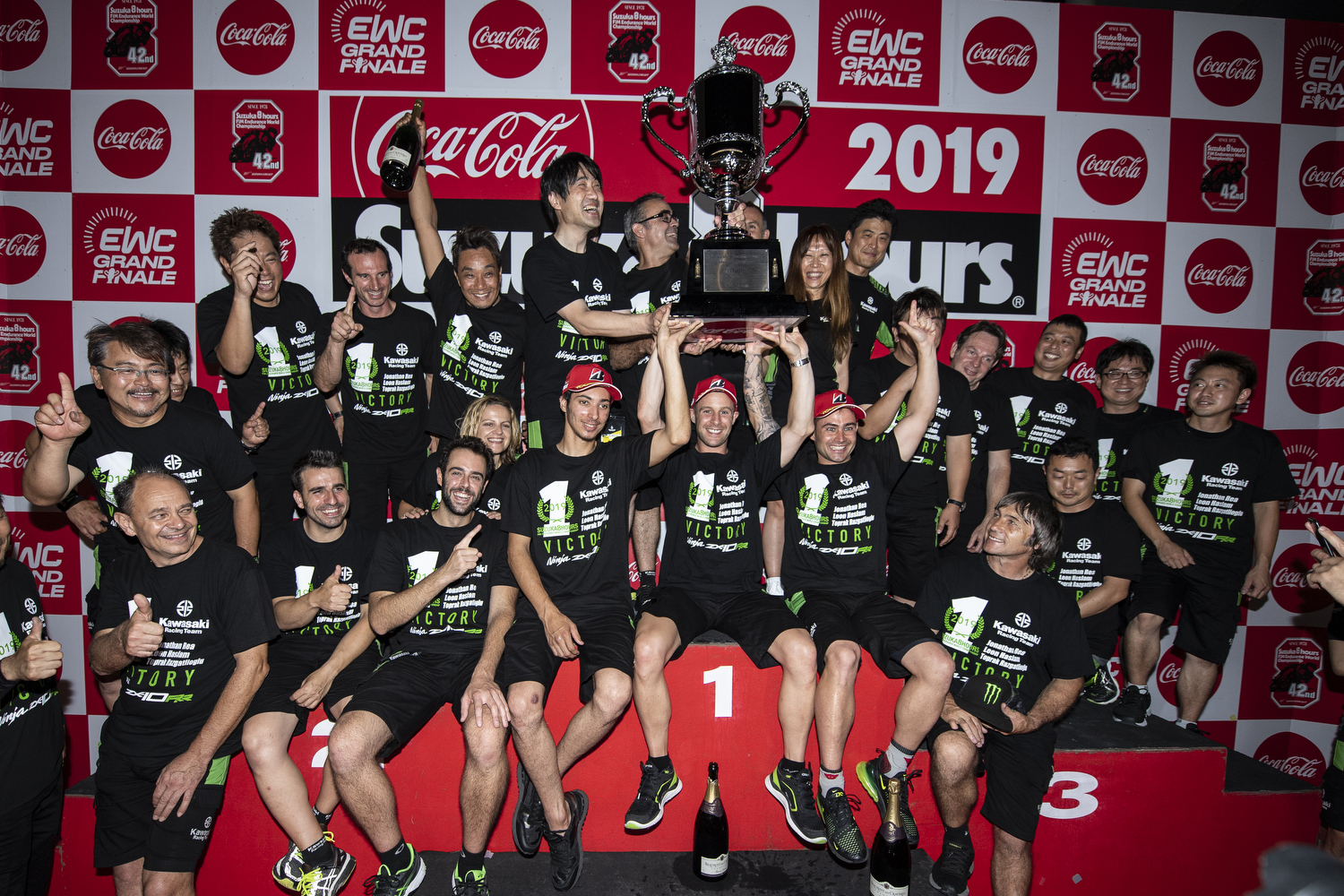 After a truly epic and finally dramatic contest the Kawasaki Racing Team Suzuka 8 Hours squad took the race victory on their Ninja ZX-10RR, securing Kawasaki's first win at this highly-prestigious event since 1993. 
Forming a two-rider team in the race the experienced Suzuka 8 Hours duo of Jonathan Rea and Leon Haslam took turns to take on the serious competition that had been evident from the very first laps, as the first-time 8 Hours rider Toprak Razgatlioglu played his role as reserve rider.
Having made their Le Mans-style start from second place on the grid the early action in the race was incredibly tight for Jonathan and Leon, with KRT third after the first hour - at which point five different teams were covered by just 0.795 seconds. 
The KRT riders led after four hours, after five, then six, and then again at the seven hour point.
With Haslam struggling with recent injuries in the final laps of his riding stints Rea, the four-time WorldSBK champion for Kawasaki, re-took the lead in the very last session and looked destined to secure the win for KRT. 
In an unbelievable turn of bad luck Rea arrived on another machine's oil spill in the gloomy and damp conditions that arrived just as the daylight was exhausted. He fell, blamelessly, but was unable to restart.
At that stage the dream of a famous race victory seemed gone and the official Yamaha team were initially declared winners after a red flag was thrown because of the oil.
Despite missing out on the initial podium ceremony, and after a long period of time, the results were amended by the race organisers to put the number 10 Kawasaki back on top. In the final reckoning KRT won the race by 18.720 seconds from Yamaha, with three teams in all on the same lap total of 216.
Jonathan Rea, stated: "I cannot believe what is happening really. From being dejected and feeling that everything was out of our hands, I had already gone back to the hotel, said goodbye to all the guys, with lots of tears. I was in the restaurant already, ordering dinner, when my mechanic Uri called me and said, 'Hey, are you sitting down?' I thought he was going to ask me to go to another restaurant - but he then told me we had won the 8 Hours. I think common sense prevailed in that one. I have no words because I am really emotional and happy. The strategy was to work on fuel consumption and race consistency and make no mistakes. I feel we executed that quite well although I got quite tired and cramped at the end. But we prepared the best way possible with the limited time we had. I am so proud to be part of the project and what an effort from KRT, KHI, KMJ who prepared for this race in two tests. During the race it is like hell, the hardest race you can ever imagine, but getting a result like this almost makes me want to come back for more. The emotional roller coaster is unreal."