Third For Rea In Aragon Race One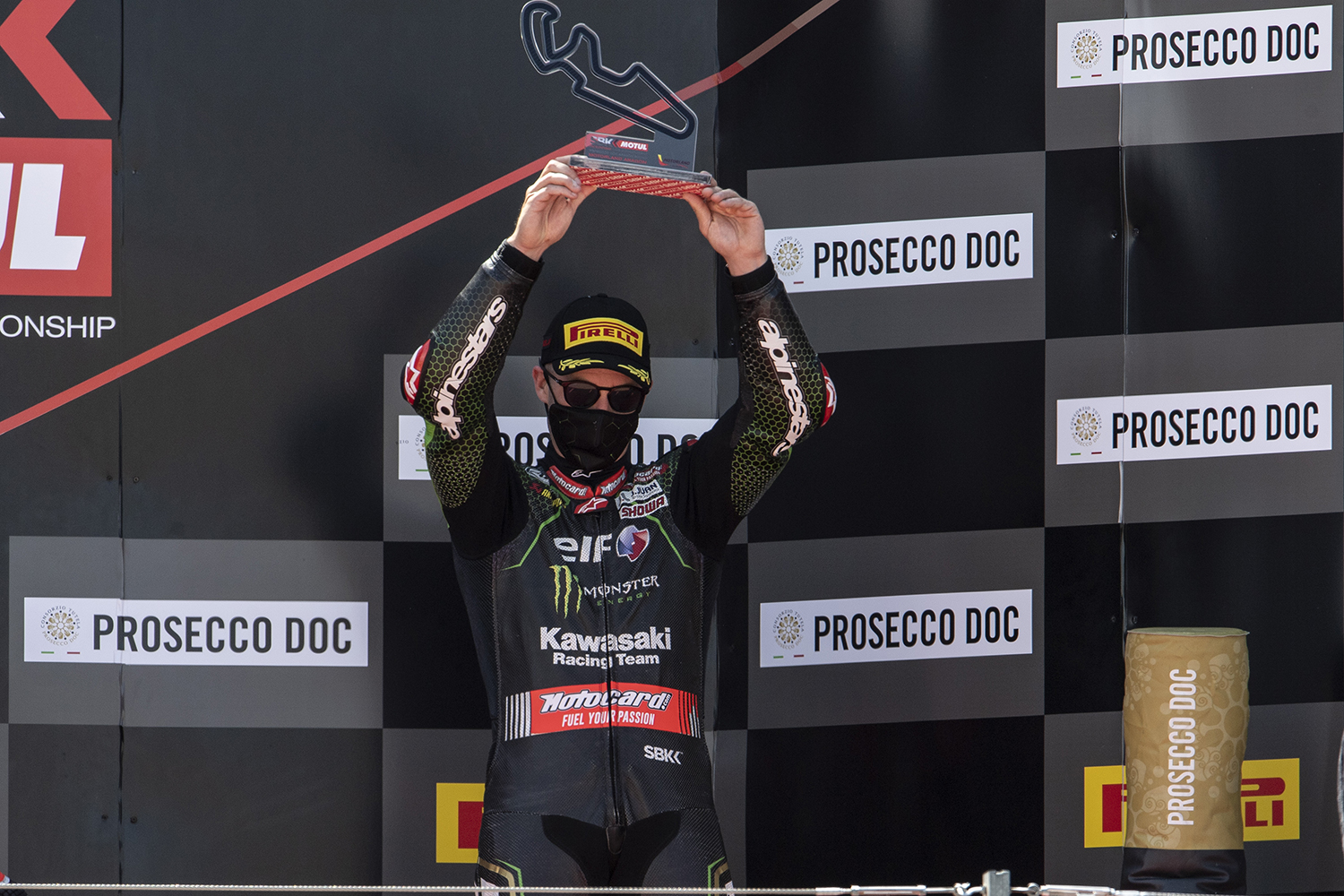 Kawasaki Racing Team rider Jonathan Rea scored a podium position today by finishing third in the opening 18-lap WorldSBK race at Motorland Aragon. Alex Lowes (KRT) was a strong starter from the second row but he was to highside out of the race, without significant injury.
After setting an all-time new track best in Superpole qualifying Rea took the lead from his team-mate Lowes on the first lap of the opening race at the 5.077km long circuit, with Scott Redding providing close company for them both.
Rea held the lead for seven laps until eventual race winner Redding passed him. Jonathan stayed in contention for the win until running slightly wide into turn 12 with a few laps to run, and he then had to fight to keep the rapidly closing Chaz Davies behind him. Davies would eventually pass with three laps to go and Jonathan finished this season's first Aragon race in a close third place.
Lowes was in a strong position after his fast early push but shortly after he had been passed by Redding he was to crash when his rear slid around quickly and then gripped again, causing him to suffer a painful fall.
In Tissot-Superpole, shortly before race one, Rea reached another personal landmark in his career, earning his 25th pole position start. He was on record breaking pace at Motorland with his 1'48.860 Superpole lap time. Lowes, still working on race set-up in the earlier stages, jumped up the order at the end of Superpole qualifying and started race one from fourth spot.
With two more races this weekend and three more at the same venue next week the KRT team's technical staff now have some real race data to work on to find an even better overall race set-up for each rider. Tomorrow there will be a 10 lap sprint race in the morning and then a second full distance 18-lap race in the afternoon.
Jonathan Rea, stated: "We were just lacking a little something today in the race but I was really happy with the Superpole qualifying session. We worked on a bit of a 'time attack' in the beginning, then when I put the Q rear tyre in I had some traffic behind - but I needed to find the rhythm and we took pole position. In the race I felt really good with the bike but I just could not fight. I had a really bad start but I tried to put my head down in the beginning and got to the front. When I got track position and Scott came through he did a really good job keeping up a good rhythm. I was just about there, but not close enough to go through. It was good in the first three sectors, and it was only two or three tenths of a difference, but when guys like Chaz and Scott are on it you cannot afford to lose that kind of time in a critical area. It was frustrating because at the start of the race I felt comfortable to let Scott lead and the pit-board gap was increasing to third place. We will put our heads together tonight and come back stronger tomorrow."