Third Place For Rea At Jerez Secures Manufacturers Title For Kawasaki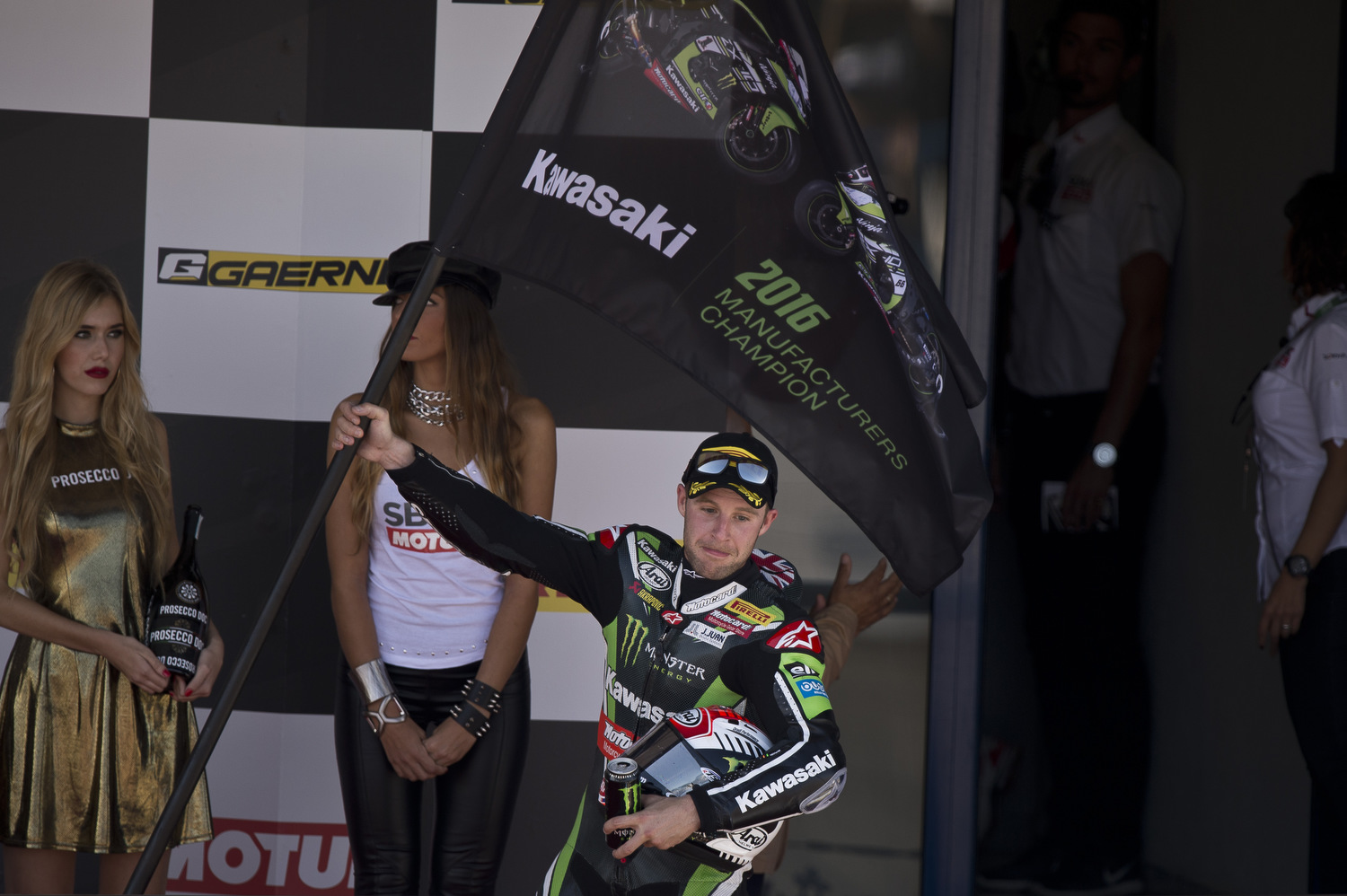 Jonathan Rea finished on the podium in the first WorldSBK race at Jerez today, taking third place behind Kawasaki team-mate Tom Sykes and race winner Chaz Davies (Ducati).  The podium places for Rea and Sykes secured the Manutacturers title for Kawasaki for the second year running.
Having qualified on the front row earlier in the morning, Rea set off to lead the race into the first corner.  Sykes took over that lead before the end of the lap, with Davies moving up over the next few laps.  Jonathan then held a secure third place for most of the race, unable to make in roads to the pair in front but comfortably ahead of the riders behind.
With one more race to run tomorrow his Championship lead now stands at 44 points ahead of Sykes. 
The headline success today, for all involved from KHI and KRT, was securing the Manufacturers' Championship with three points scoring races left to run. With three races and a possible 75 points up for grabs still, Kawasaki is an unassailable 80 points ahead in the manufacturers' standings.
Kawasaki riders – either Rea or Sykes in each case – have already taken 14 race wins in 2016, with eight 1-2 finishes. There have been 38 individual podium finishes for the official Ninja ZX-10R riders.
Jonathan Rea, stated: "We definitely did not have the pace for Chaz today. With Tom it seemed like I could hang in there but I was taking a risk. The thing on my mind was that it was better to consolidate our points and move on, to take one step closer to our ultimate goal. We had no traction from early on and some front and rear slides so for tomorrow we need to understand that. All in all I am happy to be on the podium for the first time at Jerez. We have just won the manufacturers' Championship today, three races out from the end, so that is another good point about today because it shows the hard work that Kawasaki, the team and all the staff have been doing this year, as well as last year. I am happy to contribute to that back-to-back World Manufactures Championship."