Rea Wins At Wet Magny Cours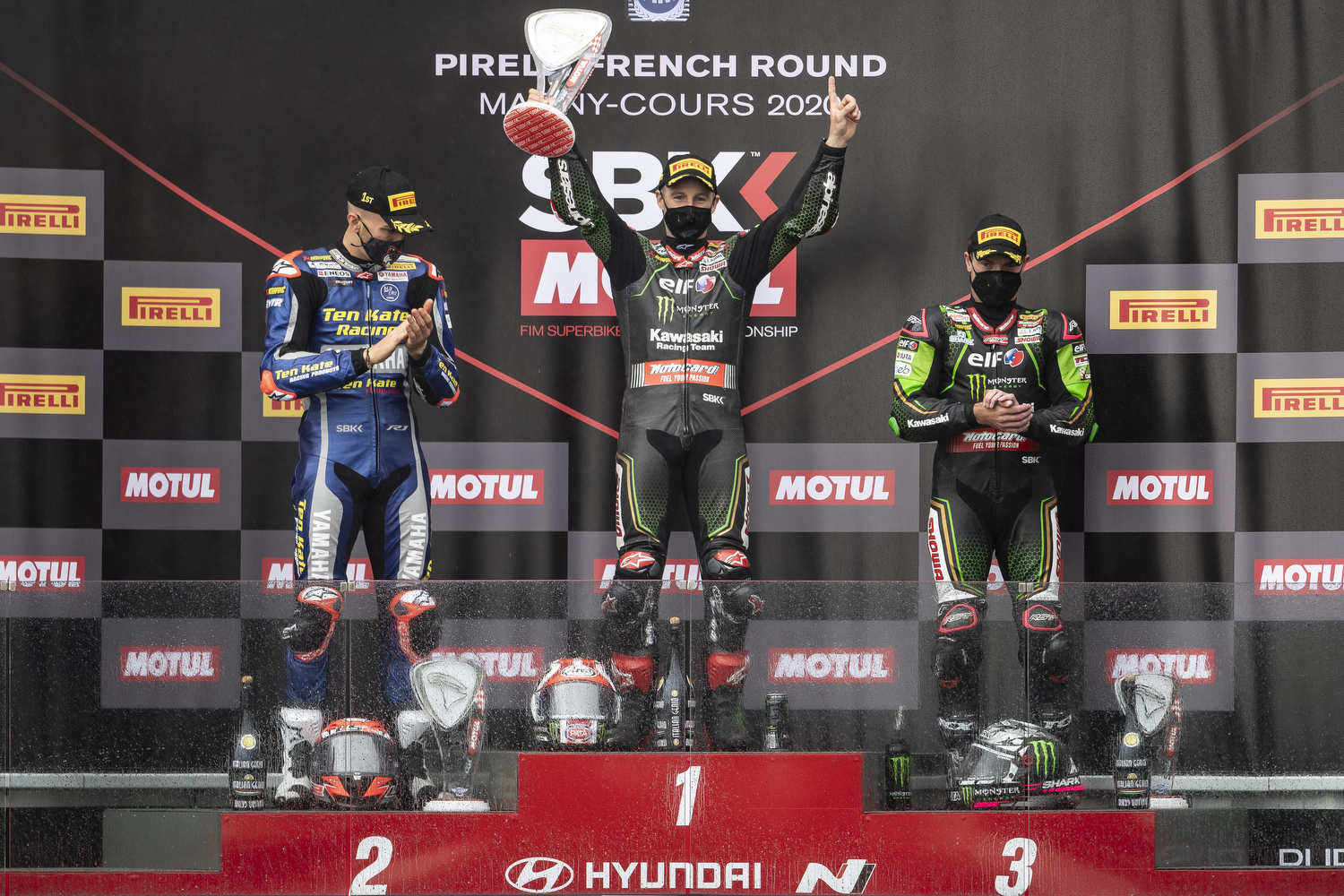 Jonathan Rea secured his tenth win of the 2020 WorldSBK season with a commanding front-running performance at Magny Cours, extending his championship lead in the process. 
In Saturday morning's Tissot-Superpole, held in wet conditions, Rea recovered well enough from a small crash in the previous FP3 session to go third fastest, earning a front row starting position. 
The conditions remained wet for the opening 21-lap race of the WorldSBK weekend and saw Jonathan lead almost immediately, after the riders in first and second position off the startline collided and fell in turn one. Rea made the most of the good start and a clear track to push the pace hard on the resurfaced Magny Cours asphalt. He would end up winning by a clear 3.342 seconds.
In winning today Jonathan took not only his 98th WorldSBK race victory but also extended his championship lead over Scott Redding (Ducati) – fifth in race one – to 65 points.
Two more WorldSBK races remain for Jonathan and Alex at Magny Cours on Sunday - the 10-lap Superpole 'sprint' race and then a full 21-lap finale to wrap-up the penultimate round of the championship.
Jonathan Rea said "It was super-hard to keep concentration for all 21 laps at the front. The pace was ridiculous but that is down to a few things. We had a good set-up on the Ninja ZX-10RR but also Magny Cours did a really good job of the new tarmac. Last year in these conditions a 1'53/54 was a good lap time, and now are doing 1'48/49s in the wet conditions. Massive thanks to my team, and everyone around, because I think we got the best out of the bike. You can never have a perfect set-up for the wet, because the conditions are always changing. Sometimes it is fully wet, sometimes there is just a little bit of water, then sometimes even a drying track. Overall our set-up for the rain was very good."