Rea Takes Four Of A Kind Championship Win At Magny Cours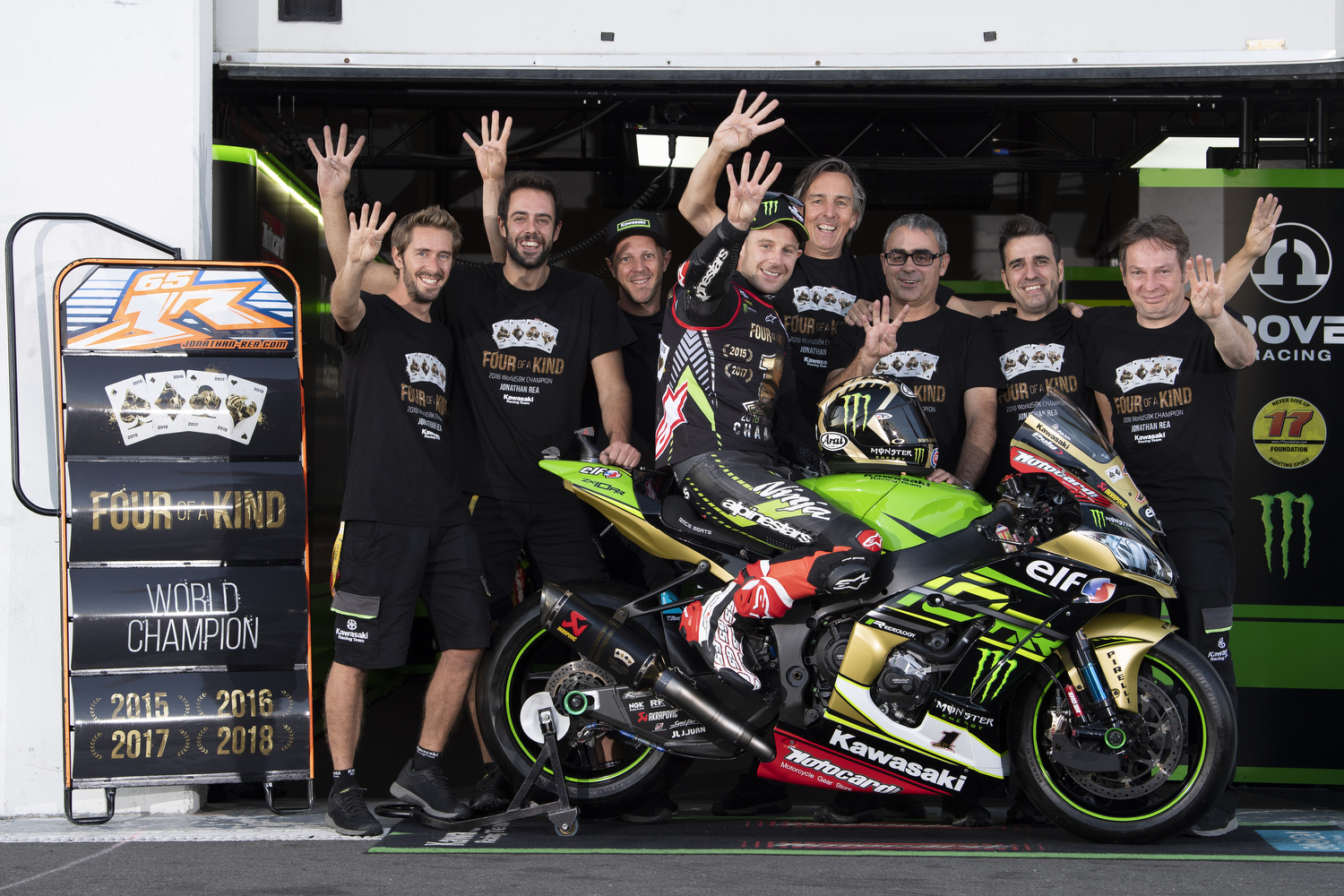 Jonathan Rea secured a famous fourth FIM Superbike World Championship title at Magny Cours today by winning his 13thrace of the season on his Ninja ZX-10RR. Rea is the second rider to have won four WorldSBK titles, but the only rider to have won four in succession. 
Rea started the race from the front row and followed team-mate Tom Sykes into the first corner.  However he passed Sykes on the second lap and he ran up front from then on, setting a lap time of 1'37.152 on his eighth tour of the 4.411km circuit to score a new lap record.
Rea's win gave him 130 podiums in WorldSBK, bringing him level to the all time record, which he now shares with Troy Corser.
On the slowdown lap Rea celebrated his championship win with a game of cards against three of his own 'alter egos', wearing his racing suits and crash helmets representing each of Rea's championship winning season with KRT, from 2015 onward.
Jonathan Rea, stated: "It is absolutely incredible to win four.  Sometimes even after winning back-to-back championships, or three in a row I have to say it is hard to find words to speak about what you have just done. It is like we are riding the wave now with our Ninja ZX-10RR, with incredible people around me. Whilst I always dreamed of being in this position I never thought it to was realistic. It was so fitting that Guim, the team manager, allowed my dad to come and collect the team award on the podium. I got really choked up when he came up because it just reminded me of growing up in Northern Ireland and travelling all round with my parents to motocross races. Then getting my first pro ride in roadracing, and my parents letting go. But they have always had my back. So that was super-nice. Pere and my team gave me a great bike this weekend and the target was clear. We have been in this position before, so there was no kind of nervousness or anxiety around, it was really positive energy. On track Fabien has been analysing what we can do and the team worked super-hard all weekend to get the best out of the bike when the tyre was dropping. In the hot conditions, at the end of the race, that is what we worked towards today. The feeling with the bike just kept coming and I was able to knock it off on the last lap and take it all in. I was aware of the crowd there and what I was about to achieve so that last lap there I thought about winning the championship. It is incredible, and incredible journey."