Rea Secures First Podium Of 2018 In Phillip Island Race Two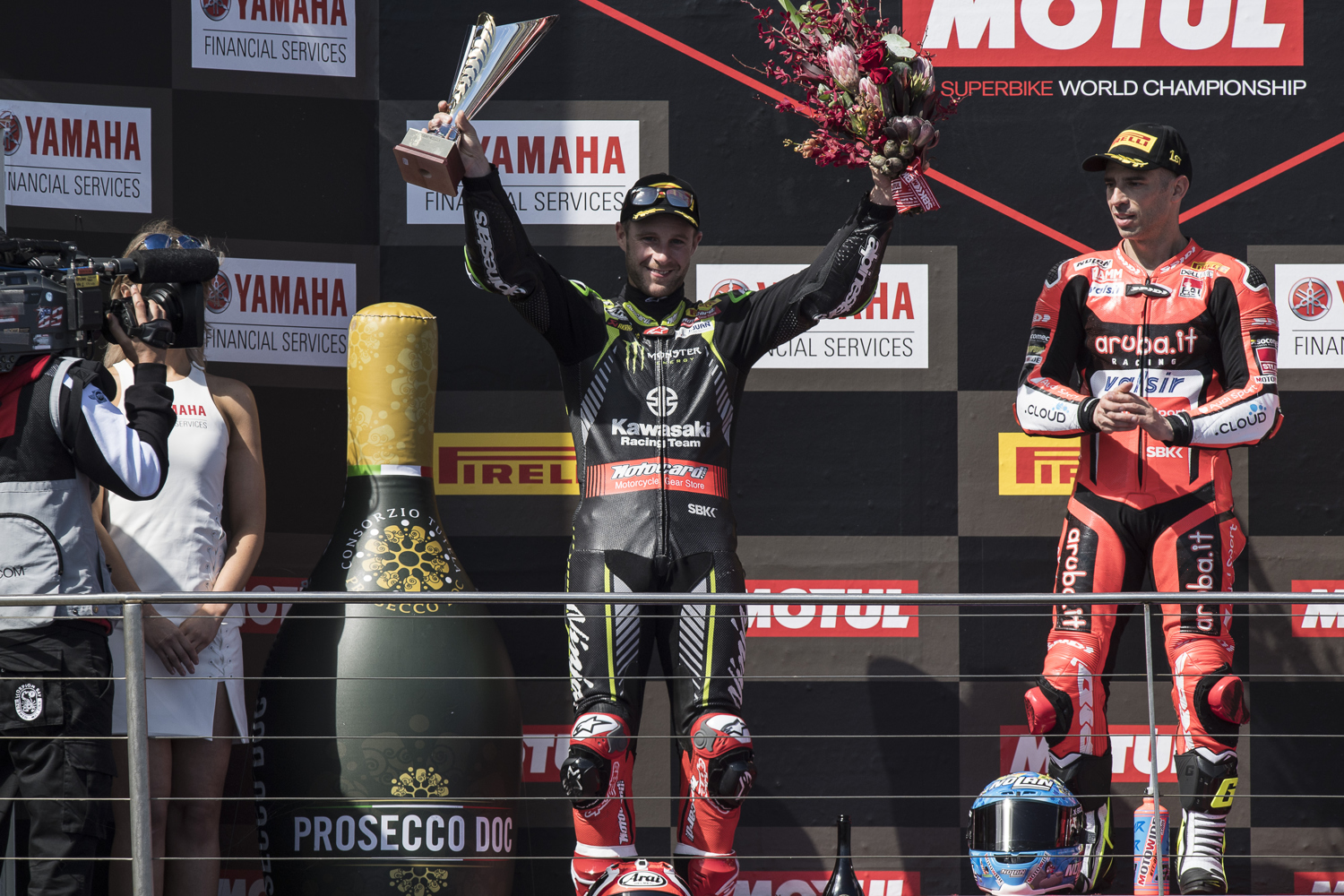 Jonathan Rea finished second in today's WorldSBK race at Phillip Island in Australia, being pipped on the line by the slimmest of margins. At the end of the two-part, 22 lap race, Rea had led onto the home straight, but in the drag to the line, race one winner Marco Melandri (Ducati), managed to take advantage of the slipstream and pull ahead to win by 0.02 of a second.  
Today's race was split into two halves following the wear issues with the tyres that many riders had experienced in yesterday's first race.  Jonathan himself had suffered, nursing his Ninja ZX-10RR home to fifth place with a blistered rear tyre.  Race two would feature a mandatory pit stop between laps nine and 12 to ensure that no riders suffered similar problems today.
As the race entered the closing stages Jonathan found himself challenging for the lead with Melandri and Xavi Fores (Ducati).  As the trio came on to the famous Gardner Straight, and headed for the chequered flag, Rea was in the lead.  However, Melandri had a little extra top speed and was able to come past at the line, with Fores in third. 
This second place gave Kawasaki it's 350th podium finish and left Rea third in the championship standings with 31 points.
Round two of the championship will take place in a month's time in Buriram, Thailand, between the 24th and 25th March 2018.
Jonathan Rea, stated: "My only chance to win the race was to try and be in the lead out of the last corner. On the penultimate lap and during the race they were passing me on the straight. When I got passed by Marco into T1 I just thought 'I am going to let the brakes off and go right down the apex and see what happens!' I wanted to put together the best last lap I could but all weekend we have been struggling with fourth gear. It was too long for that corner and we did not have enough drive on the exit. I could not get it done today and I made a bit of a mess of my pit exit. I completely forgot to change into second gear to release the pit rev limiter and both van der Mark and Fores came past me, so I lost track position. When we came round there were already a few riders ahead so I gave myself some work to do. I am happy to turn the page and start afresh in Thailand."