Rea Secures Double Win At Magny Cours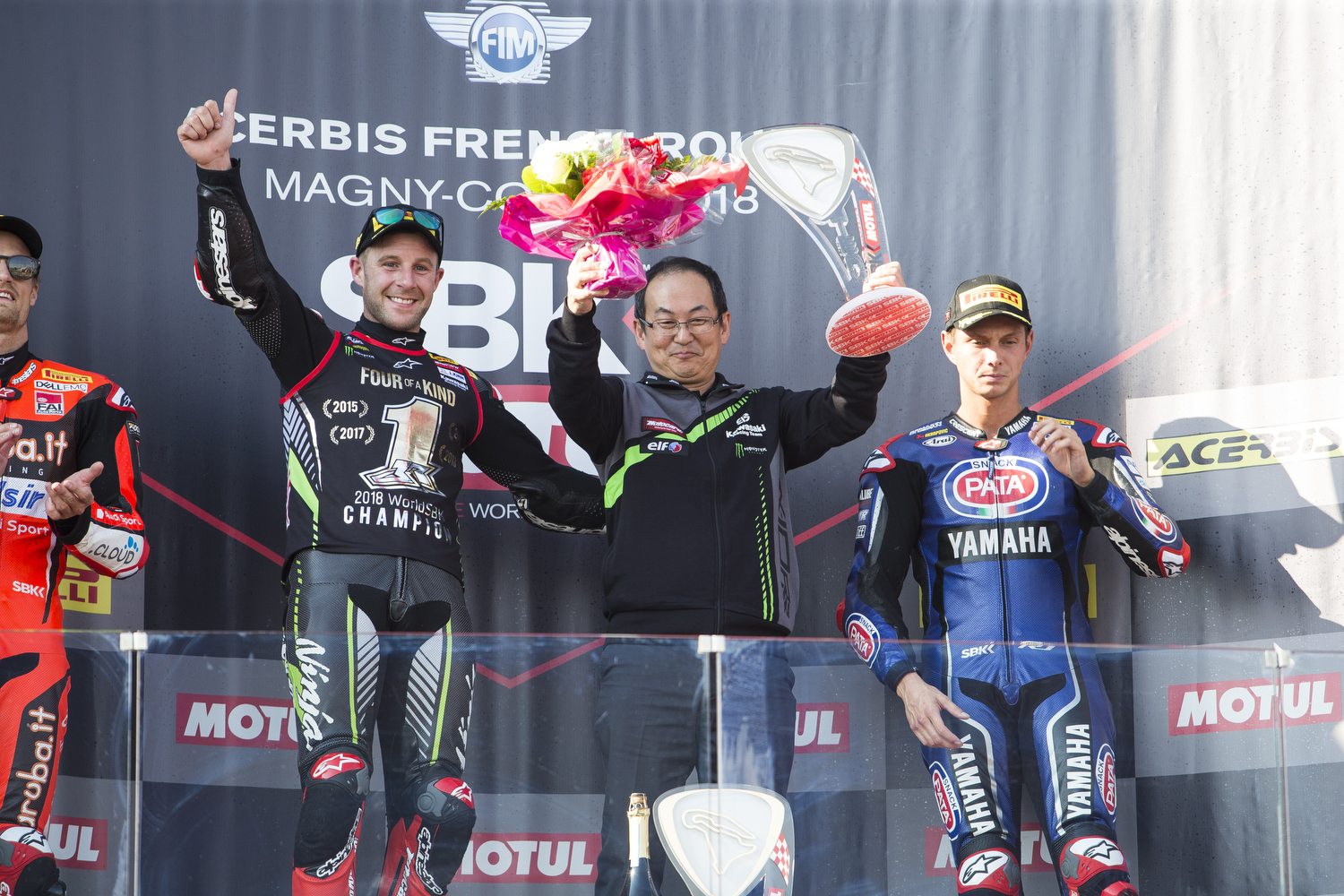 Newly crowned 2018 Superbike World Champion Jonathan Rea completed his weekend with a second race win today at Magny Cours in France.  
After his unprecedented fourth consecutive championship win on Saturday Jonathan Rea rode in celebration livery today, unfettered by thoughts of potential championship positions.
Starting from the ninth grid slot and with data from his first race win to help his cause in race two, he rode with freedom to go third on lap three and take the lead on lap 12. 
Rea eventually beat Chaz Davies (Ducati) by 1.8 seconds to record his 14thwin of the season so far, and his fourth double win in succession. It is still possible for Rea to even exceed the record of 17 race wins in a single season, as there are two rounds and four races remaining.
In race two Rea also set a stand-alone record for the number of podium places in WorldSBK, with a new total of 131 across his career.
The next round will be held at the all-new Argentine circuit of El Villicum, between the 12thand the 14thof October.
Jonathan Rea, stated: "It was an awesome weekend. With the pressure off I was able to ride a bit more aggressively. I put myself in great positions in the first laps and found great track position early on. It proved pretty hard to get past van der Mark, as he kept counter-attacking but once I got clear track I was able to catch up to Davies. But he had, again, proved quite difficult to pass. My team gave me the perfect bike today, also in terms of final gearing. Especially on the straight, I could really make some inroads into Chaz and draw alongside. I tried to outbrake him twice and just went long, missed the apex and then he cut back. So I readjusted the strategy a little bit to go and pass on one of the other corners. My bike was turning really tight and I could see he was struggling to find that apex in turn eight. Then I made my rhythm and rode to my pit board. It was a really nice feeling."