Rea Second In Barcelona Race One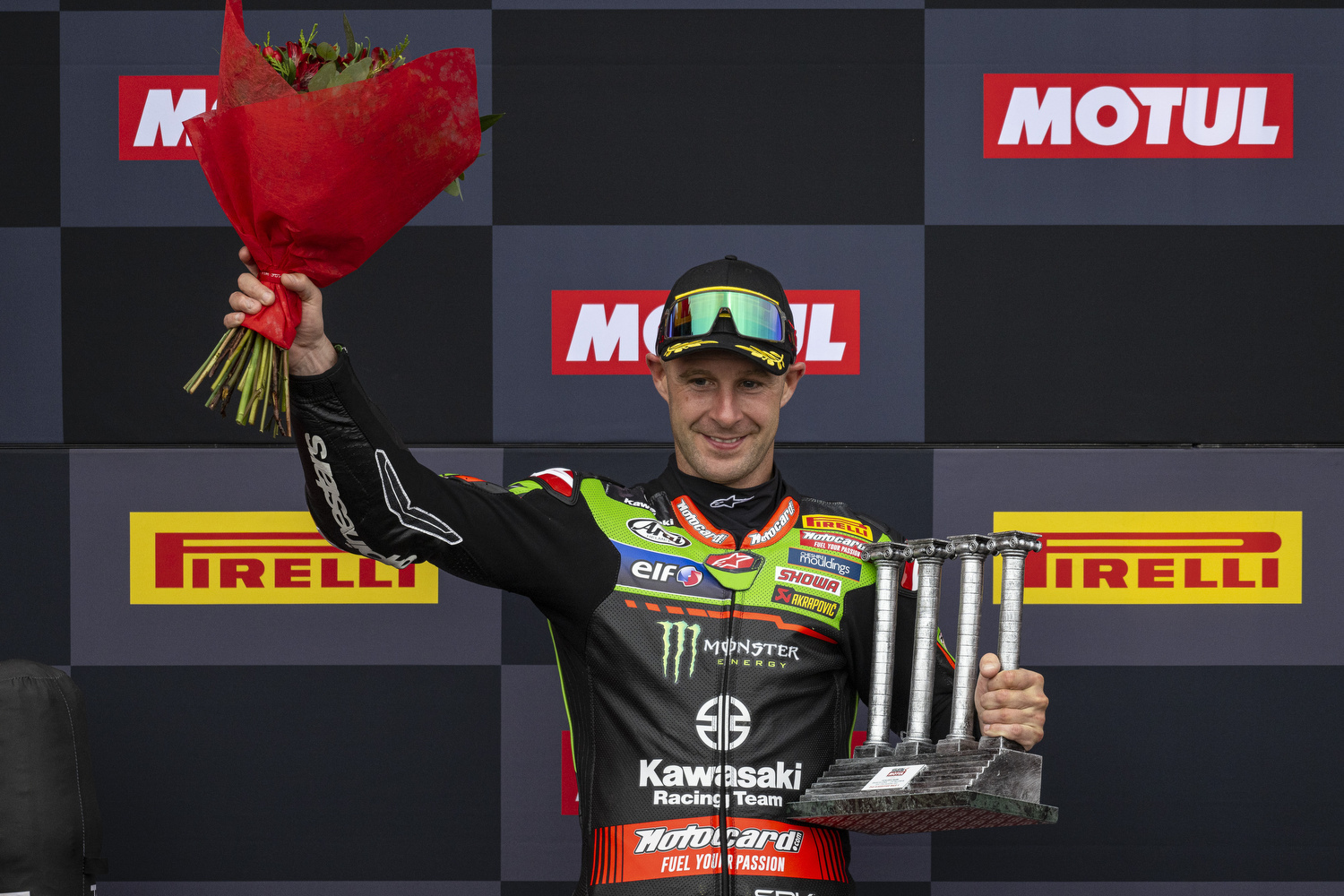 In the opening WorldSBK race of the weekend at Circuit Barcelona-Catalunya Jonathan Rea came back from being seventh on the opening laps to finish second.
Jonathan started the race from the front row of the grid, in third, but was pushed wide in the opening corner sending him down to seventh place at the end of the first lap. He was then held in fifth for some time, before moving forward gradually to go second with four laps to run.
In a race where tyre wear would play a pivotal role Rea used all the experience accrued from his six championship wins and resisted the temptation to push too hard, too early. As other riders slowed once their tyres started to spin and slide Rea rode with patience and control to get into second place on lap 17.
He would hold that position to the flag, but eventual race winner Alvaro Bautista (Ducati) was too far ahead to be caught. Rea came under some late pressure from behind, but Garrett Gerloff (Yamaha) remained in third place across the finish line. 
Jonathan's podium finish was his 190th top three race result for Kawasaki.
Sunday's action will feature the ten lap Superpole race and then Race Two over a full distance of 20 laps.
STATEMENTS:
Jonathan Rea said: "That was a strategy race for sure. We know this circuit is really tough for managing the tyre. Rinaldi released the brake in Turn One and unfortunately he hit me, then I touched Locatelli and he also went wide. I ended up in seventh place and I thought - again a lot of work to do. Step by step I was calm. I realised Toprak and Alvaro were gone, so I was thinking about a podium today. I didn't go faster, those guys in front just came back to me, so I said to myself 'a podium is maybe possible, don't give up!' Then I saw that Toprak was not going away and I thought maybe second was possible. There is a point when you're riding like this when it's hard because you are not pushing but conserving the tyre. So it is just exercising that kind of patience. My bike set-up was good today. I have to thank the crew - not just my crew but Alex's crew as well - because they helped to completely change my bike set-up before the race, just after Superpole. We found a good positive direction with the front of the bike."