Rea Scores Confident Race One Victory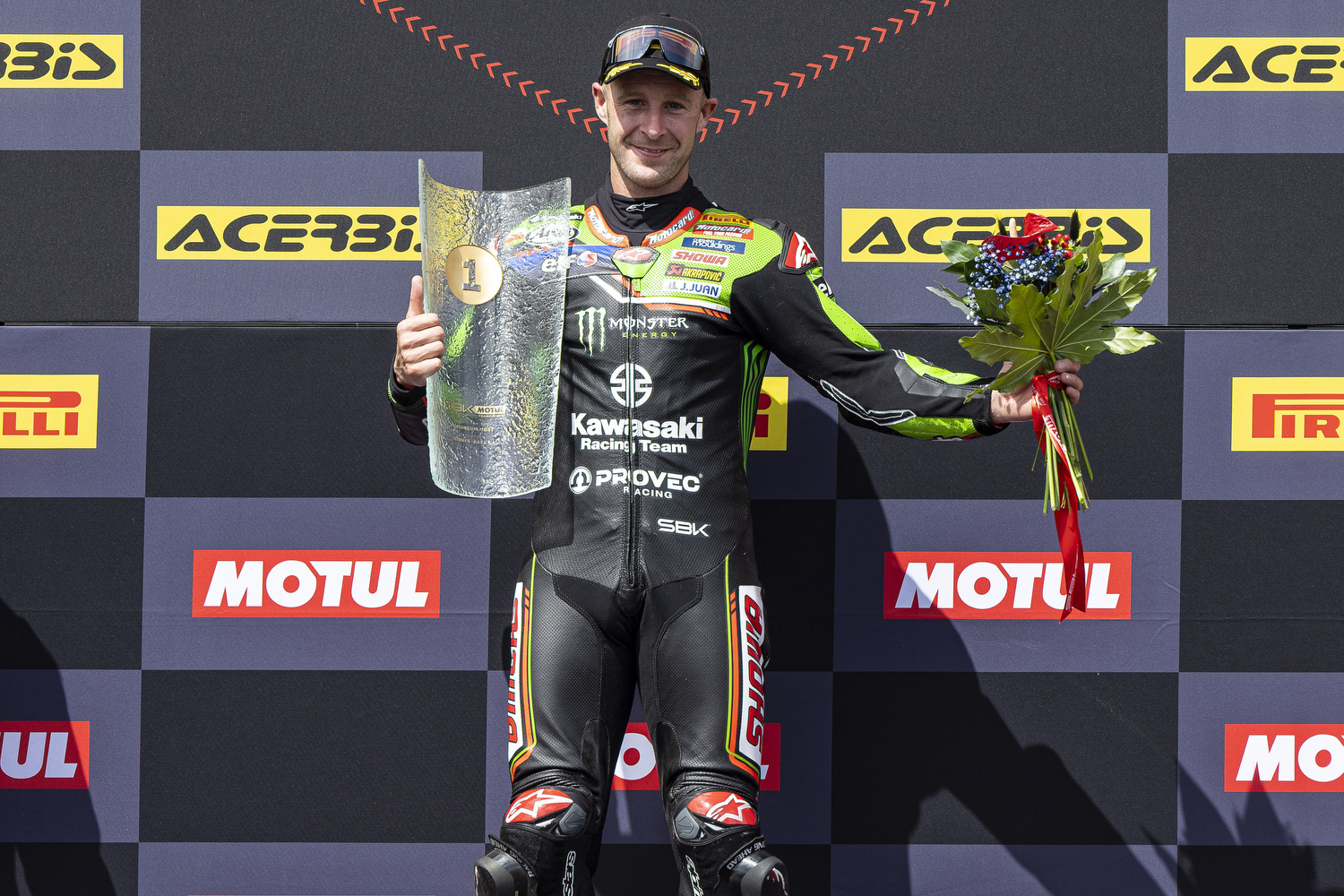 Jonathan Rea recorded his first race win of the 2023 FIM Superbike World Championship season in some style at Autodrom Most on Saturday 29 July. Rea made the right tyre choice for an initially wet track that was drying out with every passing lap and the six-times World Champion was able to keep a comfortable lead across the finishing line.
In Superpole qualifying on Saturday morning Rea was classified sixth, despite a late fall.
At the beginning of the opening WorldSBK race at the 4.212km long Czech circuit the track was so wet that none of the WorldSBK riders opted for slicks and some even went for full wet options. Rea chose Intermediate tyres - which feature some grooves but are not heavily treaded rain tyres. His decision was vindicated as the track started to dry out and offer up its best grip as the race went on.
Rea was fifth after lap one but passed early leader Bassani on lap six. He first extending his lead and then defended it with a cool head as Toprak Razgatlioglu closed in on him near the end.
Jonathan still had a handsome margin of victory of 4.007 seconds at the flag, after 22-laps of determination and concentration. This was his 119th WorldSBK race win.
On Sunday the Superpole Race (over the traditional ten laps) and then a full-distance Race Two will wrap-up the competitive action at Most before the beginning of a long summer break.
Jonathan Rea, stated: "I don't have much experience with Intermediate tyres because we never really use them. So it was a case for me of trying to ride to the conditions at the beginning to get a feeling for the Intermediates. I just wanted to get my knee down to feel some sensation. I had a lot of spinning but I realised that rain wasn't going to come on heavily again so I just convinced myself that if I could put temperature into the tyres and go fast, it would be OK. If you go slow the tyre doesn't heat up and it doesn't work. So I tried to really push the tyres in the first laps. I was surprised that I could ride with Bautista and Vierge at the beginning, as they were running full wets, but Bassani was gone out front! So I thought 'patience, I have the right tyre choice today, the race is coming.' So when I got the leading track position, and my gap to second was more than ten seconds, it was a case of doing nothing stupid. We set up the bike a bit softer for the wet conditions at the beginning, so towards the end of the race, in the drier conditions, it was a little bit too soft. It is always a nice feeling to be the first guy coming out of the last corner to see the chequered flag. I saw all my mechanics on the pit wall, which was a really good feeling."