REA REACHES LANDMARK OF 100 WINS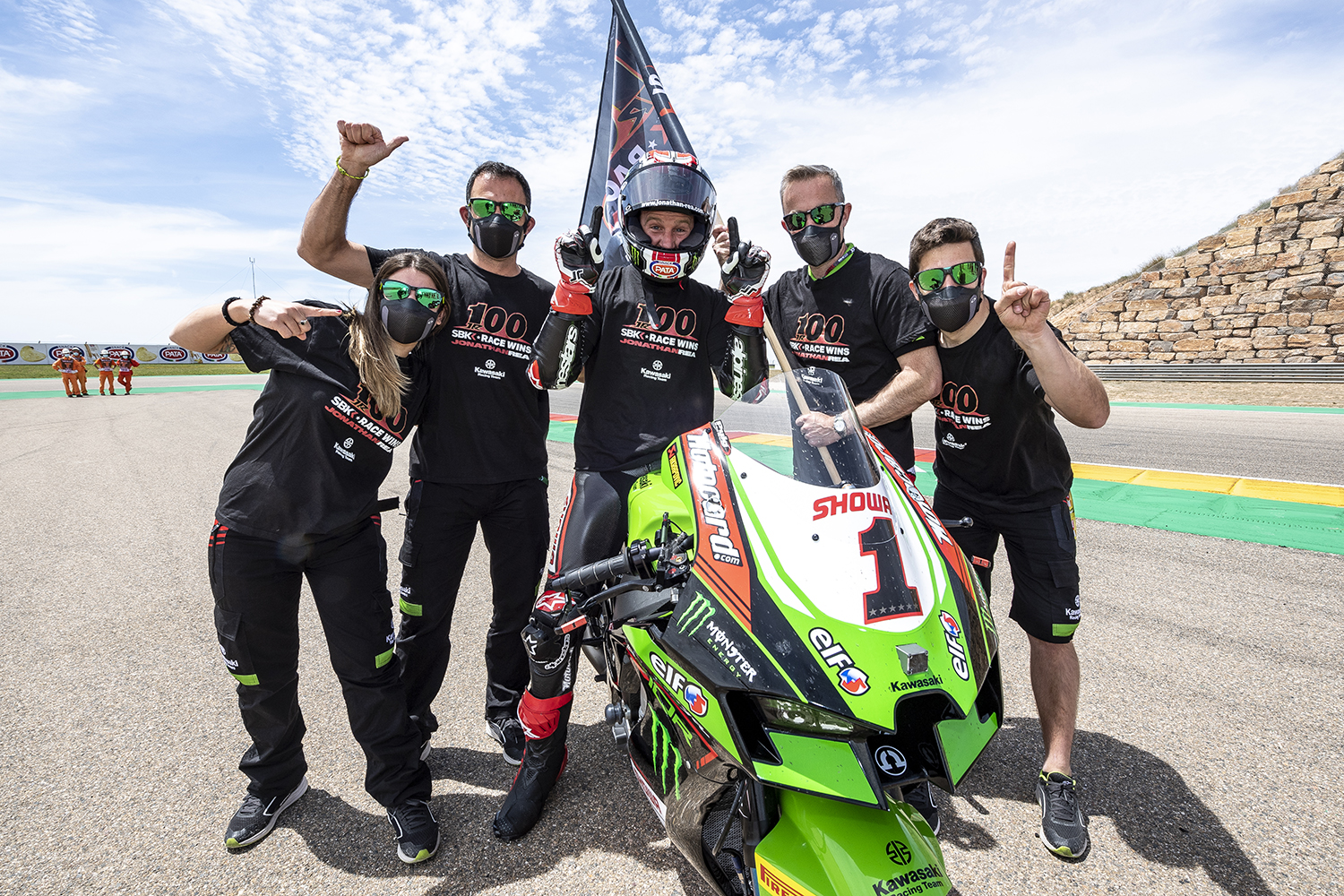 Jonathan Rea took his 100th career WorldSBK race win and his 85th victory for Kawasaki with a start-to-finish leading performance in the first race of the 2021 FIM Superbike World Championship season.
After a long winter the WorldSBK season began in great style for Rea and the latest Kawasaki Ninja ZX-10RR. In Superpole Rea set a new track best lap time of 1'48.458 in the relatively cool morning conditions of day two at Motorland. 
In the early laps of the opening race Rea led from team-mate Alex Lowes, stretching a joint lead of one second on the chasing pack in just two laps. That lead was extended to two seconds for Rea and he would have a calm and controlled ride all the way to the flag to take his famous win by almost four seconds.
Now Rea will face two races on Sunday May 23; the short ten-lap Tissot Superpole 'sprint' race and then a second full distance 18-lap race to complete the first weekend's return to race action since last October.
Jonathan Rea said: "We reached 100 race wins today and it was done with a lot of hard work. Over the off season Kawasaki really dug in with a new bike and we were able to make a step. Also in the off season I worked really hard on myself and I know I improved in all areas. I was born with the dream of racing motorbikes, and going with my parents to ride around Motocross tracks in 1993, '94. The history is mad. Getting the opportunity to come to the world championship, in 2008 in Supersport, and straight away after my rookie season going to Superbike. Taking my first race win at Misano in 2009 as a rookie and now with 100 wins… It's mad! Each and every race win is special, and I have never been a statistics guy, but when I was closing in on 100 wins that was a big goal. It is such a cool number and a career landmark. I am very proud of it. We had been a little bit unlucky in the winter tests with bad weather but my team have left no stone unturned and turned up at every test we could. They reorganised and rescheduled things so huge thanks to all the staff. Not only the management but all the mechanics and their families for making this sacrifice. We have been away from home so long this off season, often for no laps, but we are in a good position now. To win the first race starts our championship off 25 points better than last year! That was a good way to start."