Rea Ends Season With Podium Finishes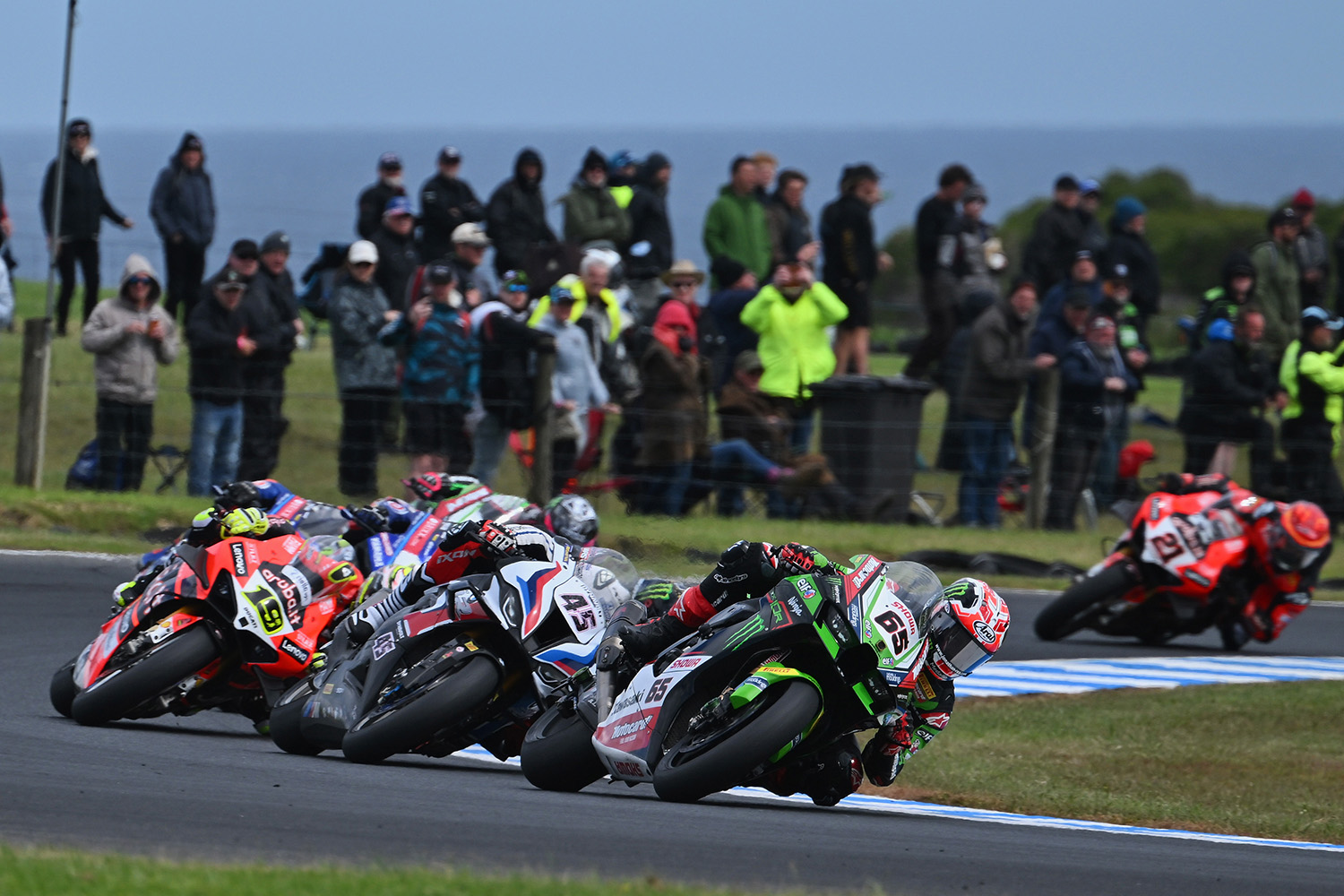 Six-time WorldSBK champion Jonathan Rea ended the 2022 season today with two podium finishes at the Phillip Island Grand Prix Circuit in Australia. He was third in the ten-lap Superpole race and then second in a shortened WorldSBK race two.
It was another day of mixed weather conditions at Phillip Island, located on the southern Bass Coast of Victoria, resulting in close, unpredictable racing similar to yesterday when Rea secured his sixth win of the 2022 season.
The Superpole race started immediately after a shower of rain and, like yesterday, the sun and wind started to dry the track surface as the riders were lined up on the grid. Jonathan chose a mixed tyre option with a wet front and intermediate rear, hoping to have a good balance over the short race distance. Alvaro Bautista was the only rider who chose to gamble with slick tyres on his Ducati and it ultimately paid off as he came through on the last lap, with the track now dry, to seal the win. Rea finished third behind Toprak Razgatlioglu (Yamaha), also on a wet/intermediate tyre option.
The conditions were dry at the start of WorldSBK race two which was a very close fought affair in the opening laps with Jonathan leading until lap six. He then ran in second, behind Bautista, waiting to make a potentially race winning move, until the race was stopped by a red flag. It had started to rain and a crash in the first corner as a result brought out the red flag with five laps of the scheduled 22 remaining. At that point the race had completed more than two thirds distance and the final result was declared, with no re-start, based on the final positions at the end of the previous lap. Jonathan therefore was classified in second place, behind Bautista and ahead of Kawasaki team-mate Alex Lowes.
The weekend results confirmed Jonathan finished third overall in the 2022 championship standings with 502 points. A win and two other podiums this weekend offer a positive end to the season, however, as next year's campaign will begin at Phillip Island again on the weekend of February 24-26, 2023.
Jonathan Rea said: "After race two there is a mixture of disappointment and happiness to finish the year this way because I felt in that race that my bike set-up was much better. We had more stability, more traction, side grip and acceleration off the corner. But in sector four I just lost too much. It was everything I could do to be there again at Turn Four, by taking too much risk and using up some tyre. Even doing that the tyre wasn't dropping, so kudos to Pirelli. I think brining these harder contruction tyres for Phillip Island is the way forward. The race might be a little slower, but to stay in the 1'31 flat lap times, right to the end, was really very good. I think we have to be really satisfied with our effort this season. Of course, I made a few mistakes along the way but also I think the final result are a highlight of where we are. We need to improve, but in saying that I think we were more or less 25 points away from Toprak Razgatlioglu at the end of the season - the guy who won the championship last year. This year there was a new weapon to fight at the front so we need to maximise all we can. The team has been fantastic, and in the tough moments we have shown how strong a team we are."