Race Two Podium Extends Championship Lead For Rea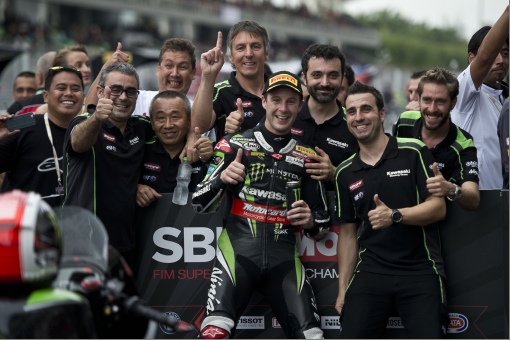 In a wet second Superbike World Championship race at Sepang, Kawasaki Racing Team rider Jonathan Rea secure third place and a strong points score to extend his championship lead to 42 points. Nicky Hayden (Honda) took victory from Davide Giugliano (Ducati).
With no previous wet experience to call on at the resurfaced Sepang circuit the official Kawasaki Ninja ZX-10R rider had little time to find a good set-up on full wet tyres. Starting from third place Jonathan made a good launch from the startline in search of more podium success.
Rea led early on but was passed by Hayden before the end of the first lap.  He was then able to hold onto a good pace for most of the race, changing places with Ducati pairing Giugliano and Chaz Davies, even fighting back in the later stages to reclaim third place and a podium from his nearest championship rival Davies. In doing so he managed to keep his points total moving ahead once again and he now has 257 points to Davies' 215, after six rounds.
The next round will be held at Donington Park in the UK, over the weekend of 27-29 May.
Jonathan Rea stated: "It is so difficult in a weekend when you have all dry sessions, a dry race one - and then two hours before race two a monsoon comes in! I am proud of my team because they were so reactive to the changing conditions. I feel we got it quite close and my bike was giving me quite a lot of feedback out there. The strategy in the wet was just to do the rhythm. It was important to keep the corner entry traction off the tyre, as normally that is the first area that suffers. So when I set off it was just about managing everything. Nicky was too far in front for me to want to really grit my teeth and go for him. I was happy with our performance and that was the maximum we could do. Maybe if I had the race again I could have gone with Nicky in the beginning but third was the result we got today and we achieved our target for the weekend. That was to increase our championship lead, so I am happy we did that."
Pole position : Tom Sykes - 2m 02.246 - 163.235 km/h
Fastest lap : Davide Giugliano - 2m 16.716 - 145.958 km/h
Circuit record lap : 2016 Tom Sykes - 2m 03.637 - 161.400 km/h
Circuit Best Lap : 2016 Tom Sykes - 2m 02.246 - 163.230 km/h
Temperature : Air 26°C / Track 30°C
Humidity : 89%
Crowd : 23,762
Event results - Round 6 - Race 1
| | | | | | |
| --- | --- | --- | --- | --- | --- |
| 1 | Nicky Hayden | 37m 04.047 | USA | HONDA | Honda World Superbike Team |
| 2 | Davide Giugliano | 1.254 | ITA | DUCATI | Aruba.it Racing-Ducati Superbike Team |
| 3 | Jonathan Rea | 3.684 | GBR | KAWASAKI | Kawasaki Racing Team |
| 4 | Chaz Davies | 5.720 | GBR | DUCATI | Aruba.it Racing-Ducati Superbike Team |
| 5 | Anthony West | 15.989 | AUS | KAWASAKI | Team Pedercini |
| 6 | Michael van der Mark | 19.979 | NED | HONDA | Honda World Superbike Team |
| 7 | Alex De Angelis | 20.028 | RSM | APRILIA | IodaRacing Team |
| 8 | Tom Sykes | 23.011 | GBR | KAWASAKI | Kawasaki Racing Team |
| 9 | Leon Camier | 24.045 | GBR | MV AGUSTA | MV Agusta Reparto Corse |
| 10 | Markus Reiterberber | 25.139 | GER | BMW | Althea BMW Racing Team |
| 11 | Xavi Fores | 25.208 | ESP | DUCATI | BARNI Racing Team |
| 12 | Joshua Brookes | 25.835 | AUS | BMW | Milwaukee BMW |
| 13 | Jordi Torres | 26.757 | ESP | BMW | Althea BMW Racing Team |
| 14 | Lorenzo Savadori | 30.729 | ITA | APRILIA | IodaRacing Team |
| 15 | Josh Hook | 1m 05.347 | AUS | KAWASAKI | Grillini SBK Team |
| 16 | Gianluca Vizziello | 1m 17.761 | ITA | KAWASAKI | Grillini SBK Team |
| 17 | Luca Scassa | 1m 18.121 | ITA | DUCATI | VFT Racing |
| 18 | Pawel Szkopek | 1m 31.412 | POL | YAMAHA | Szkopek POLand Position |
| 19 | Dominic Schmitter | 2m 07.000 | SUI | KAWASAKI | Grillini SBK Team |
| 20 | Saeed Al Sulaiti | 2m 08.836 | QAR | KAWASAKI | Team Pedercini |
| 21 | Imre Toth | 1 Lap | HUN | YAMAHA | Team Toth |
| 22 | Alex Lowes | DNF | GBR | SUZUKI | Voltcom Crescent Suzuki |
| 23 | Karel Abraham | DNF | CZE | BMW | Milwaukee BMW |
Championship standings
| | | | | | |
| --- | --- | --- | --- | --- | --- |
| 1 | Jonathan Rea | 257 pts | GBR | KAWASAKI | Kawasaki Racing Team |
| 2 | Chaz Davies | 215 pts | GBR | DUCATI | Aruba.it Racing-Ducati Superbike Team |
| 3 | Tom Sykes | 187 pts | GBR | KAWASAKI | Kawasaki Racing Team |
| 4 | Michael van der Mark | 125 pts | NED | HONDA | Honda World Superbike Team |
| 5 | Davide Giugliano | 118 pts | ITA | DUCATI | Aruba.it Racing-Ducati Superbike Team |
| 6 | Nicky Hayden | 115 pts | USA | HONDA | Honda World Superbike Team |
| 7 | Jordi Torres | 103 pts | ESP | BMW | Althea BMW Racing Team |
| 8 | Leon Camier | 73 pts | GBR | MV AGUSTA | MV Agusta Reparto Corse |
| 9 | Alex Lowes | 70 pts | GBR | SUZUKI | Voltcom Crescent Suzuki |
| 10 | Lorenzo Savadori | 62 pts | ITA | APRILIA | IodaRacing Team |
| 11 | Sylvain Guintoli | 58 pts | FRA | YAMAHA | Pata Yamaha Official WorldSBK Team |
| 12 | Xavi Fores | 56 pts | ESP | DUCATI | BARNI Racing Team |
| 13 | Markus Reiterberber | 53 pts | GER | BMW | Althea BMW Racing Team |
| 14 | Alex De Angelis | 41 pts | RSM | APRILIA | IodaRacing Team |
| 15 | Joshua Brookes | 39 pts | AUS | BMW | Milwaukee BMW |
| 16 | Roman Ramos | 36 pts | ESP | KAWASAKI | Team Go Eleven |
| 17 | Anthony West | 18 pts | AUS | KAWASAKI | Team Pedercini |
| 18 | Karel Abraham | 18 pts | CZE | BMW | Milwaukee BMW |
| 19 | Matteo Baiocco | 12 pts | ITA | DUCATI | VFT Racing |
| 20 | Lucas Mahias | 9 pts | FRA | KAWASAKI | Team Pedercini |
| 21 | Luca Scassa | 3 pts | ITA | DUCATI | VFT Racing |
| 22 | Josh Hook | 2 pts | AUS | KAWASAKI | Grillini SBK Team |
| 23 | Sylvain Barrier | 2 pts | FRA | KAWASAKI | Team Pedercini |
| 24 | Mike Jones | 2 pts | AUS | DUCATI | Desmo Sport Ducati |
| 25 | Dominic Schmitter | 1 pts | SUI | KAWASAKI | Grillini SBK Team |
| 26 | Matthieu Lussiana | 1 pts | FRA | BMW | Team ASPI |
| 27 | Anucha Nakcharoensri | 0 pts | THA | YAMAHA | Yamaha Thailand Racing Team |
| 28 | Sahustchai Kaewjaturapom | 0 pts | THA | KAWASAKI | Grillini SBK Team |
| 29 | Saeed Al Sulaiti | 0 pts | QAR | KAWASAKI | Team Pedercini |
| 30 | Peter Sebestyen | 0 pts | HUN | YAMAHA | Team Toth |
| 31 | Pawel Szkopek | 0 pts | POL | YAMAHA | Szkopek POLand Position |
| 32 | Imre Toth | 0 pts | HUN | YAMAHA | Team Toth |
| 33 | Gianluca Vizziello | 0 pts | ITA | KAWASAKI | Grillini SBK Team |