Race And Superpole Wins For Rea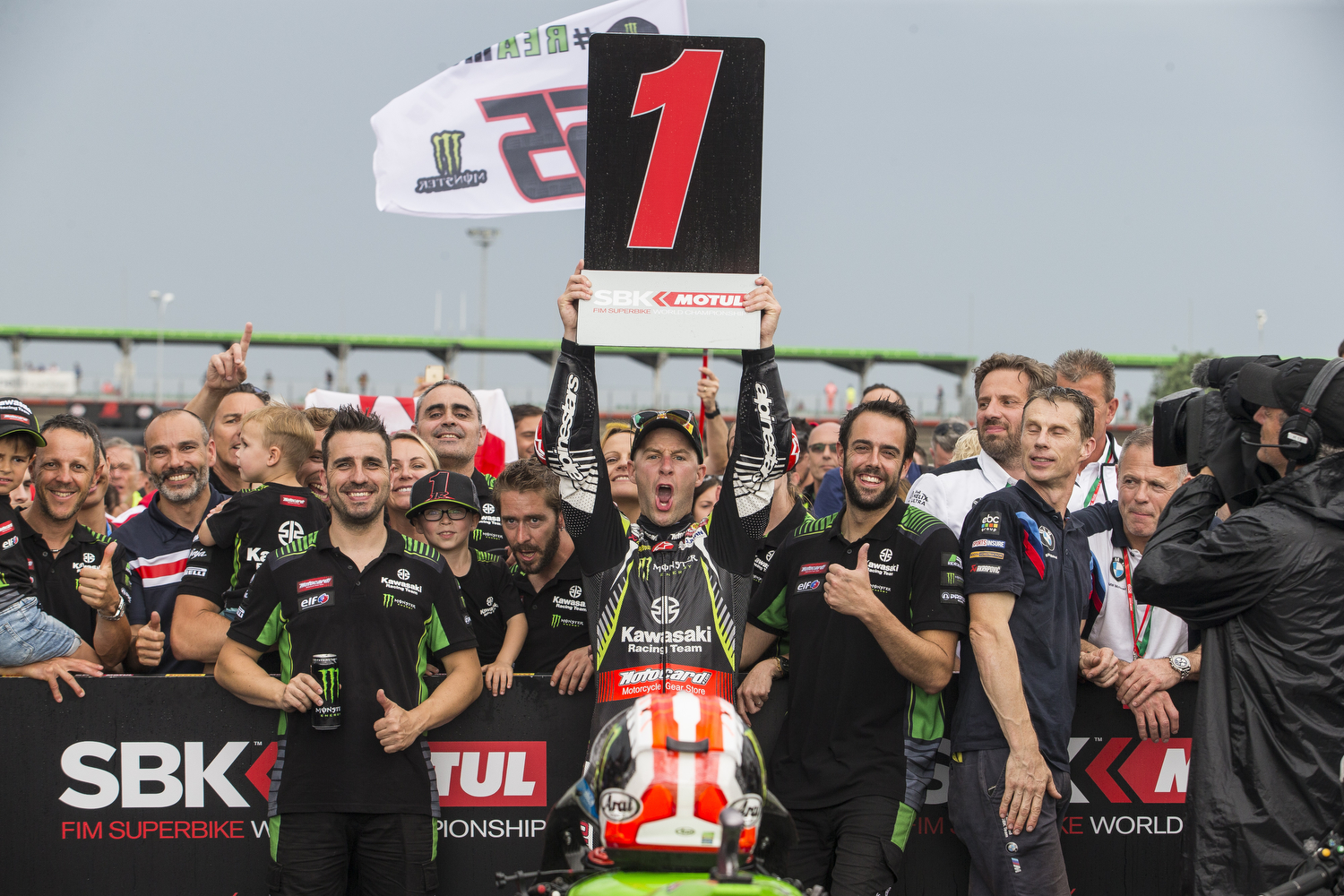 Four-time Superbike World Champion Jonathan Rea and his Kawasaki Ninja ZX-10RR dominated the proceedings at Misano on Saturday, taking his third Superpole of the year before running out a clear winner in a wet Race One. Rea's win made it 130 WorldSBK race victories for Kawasaki riders since the series started in 1988, cementing Kawasaki's position as the second-most successful manufacturer in this regard.
Despite overnight and early morning rain this morning's Tissot-Superpole was held in the dry, with Rea finishing 0.355 seconds faster than his closest rival.   The skies however darkened and lighting storms dropped heavy rain in waves as the schedule race time approached.  It actaully took three attempts to hold what was finally an 18-lap race the rain was so heavy at times.
The first 'start' was red flagged after just three laps had been completed. This period of track action did not count for points but it changed the grid positions in a shortened 18-lap finale on Saturday. All the riders took their eventual grid from where they had been ranked after three full laps, putting Rea second on the grid.  
After the third start procedure in just over an hour Rea and Alex Lowes (Yamaha) got clear of the chasing pack and disputed the race lead, until Lowes fell and Rea rode on alone to win by 3.692 seconds, with rainfall alternately intensifying and reducing as the race unfolded to a finish. 
Rea made up nine points on championship leader Alvaro Bautista (Ducati) today with two more WorldSBK races to come at Misano on Sunday 23 June. First there will be a ten-lap Tissot-Superpole race and then a final full distance race in the afternoon, scheduled for 21 laps.
Jonathan Rea, stated: "I had done next to zero laps in the wet this season, even in winter testing. The first time we came across the wet was in morning warm-up at Imola. The gamble to stay inside the box in the wet morning warm up today still paid off, but we did not expect the rain clouds to come for the race. I was very nervous as we did not really have a wet set-up. So we just tried to maximise our potential, ride my own race and our bike works well in these conditions. It is a very stable bike but the track was changing lap-to-lap. Sometimes we had a lot of surface water, sometimes zero surface water. You need much more concentration in a wet race, because the bike is moving much more underneath you and you have to be very precise, especially with the white lines and the kerbs. When Alex came past I was not prepared to take that risk to go that fast. When I was leading the race I tried to manage my rhythm and the gap to behind. Arturo my mechanic was super-good with my pit-board so I could enjoy the last lap."