Jonathan Rea And Kawasaki Together For Two More Years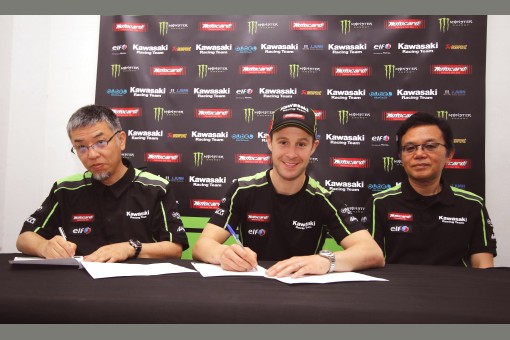 Reigning FIM Superbike World Champion Jonathan Rea has re-signed with Kawasaki's official KRT effort to compete for two more years on the class-leading latest model Ninja ZX-10R.
Committing to extend their mutually beneficial partnership into the future, both Rea and Kawasaki aim to continue the kind of success that delivered Rea the championship in his first KRT season last year.
Jonathan leads the current WorldSBK championship standings by 35 points after five rounds of the 2016 season have been completed.
Jonathan Rea stated: "I am so happy to extend this partnership with the Kawasaki Racing Team and continue the great relationship I have with all the Kawasaki engineers and fans. It is clear that our objectives and way of working are very well matched so it makes perfect sense to extend this for two more seasons. With all the incredible memories we have made so far and are now creating, I am 100% confident that we will enjoy working together and develop the Ninja ZX-10R into the future. I would like to thank Kawasaki and all the KRT staff for their full support and belief in my potential. With this in mind I am now even more focused than ever to win the World SBK Championship in 2016 to make it back to back wins."
Steve Guttridge, Racing Manager Kawasaki Europe, stated: "The successes Kawasaki have enjoyed with Jonathan and his relationship with our Kawasaki Racing Team over a relatively short time has been phenomenal to witness. Finding that complete chemistry in racing is very difficult. Team, bike and rider all need to be in harmony together and for sure with JR we have found that magic mix, so it's only logical to continue the great relationship. Jonathan is a racer who understands well the importance of the entire team around him; the full package. With Johnny wanting to stay for two more years inside our team and riding the new Ninja ZX-10R, we have a full package."
Guim Roda, KRT Team Manager, stated:  "Rea is an experienced rider with a young spirit and big motivation, open to learning and improving race-by-race. This gives us even greater potential to have an even better rider in two years' time. His big credit in this KRT project is to give us the pressure to give the best to him. I know clearly that the mechanics, crew, technicians, team staff and all KHI engineers will do our best to cover his expectations."
Ichiro Yoda, KRT Senior Engineer, stated: "The KRT project is based on development and information for KHI engineers to improve their knowledge and improve the development of future machines, working closely with the R&D department. We have re-signed a rider with commitment and skill who can push the limits of the bike to explain to the engineers his feelings. Jonathan has a good talent and speed, and we are very happy to use this energy to understand how the Ninja ZX-10R works at on-the-limit conditions. I'm sure in 2016, 2017 & 2018 we will have a strong package with him."
The final word goes to Kenji Tomida, President of Kawasaki's Motorcycle and Engineering Company.
"We were delighted to host the recent visit to KHI for 2015 WorldSBK Champion, Jonathan Rea. Our Ninja brand has been further enriched with the launch of the new Ninja ZX-10R on which Jonathan has already had much success this year. The whole Kawasaki family are understandably delighted that he has extended his relationship with the Kawasaki Racing Team and we wish him success both now and in the future".