Emotional Homecoming For Triple World Champion Jonathan Rea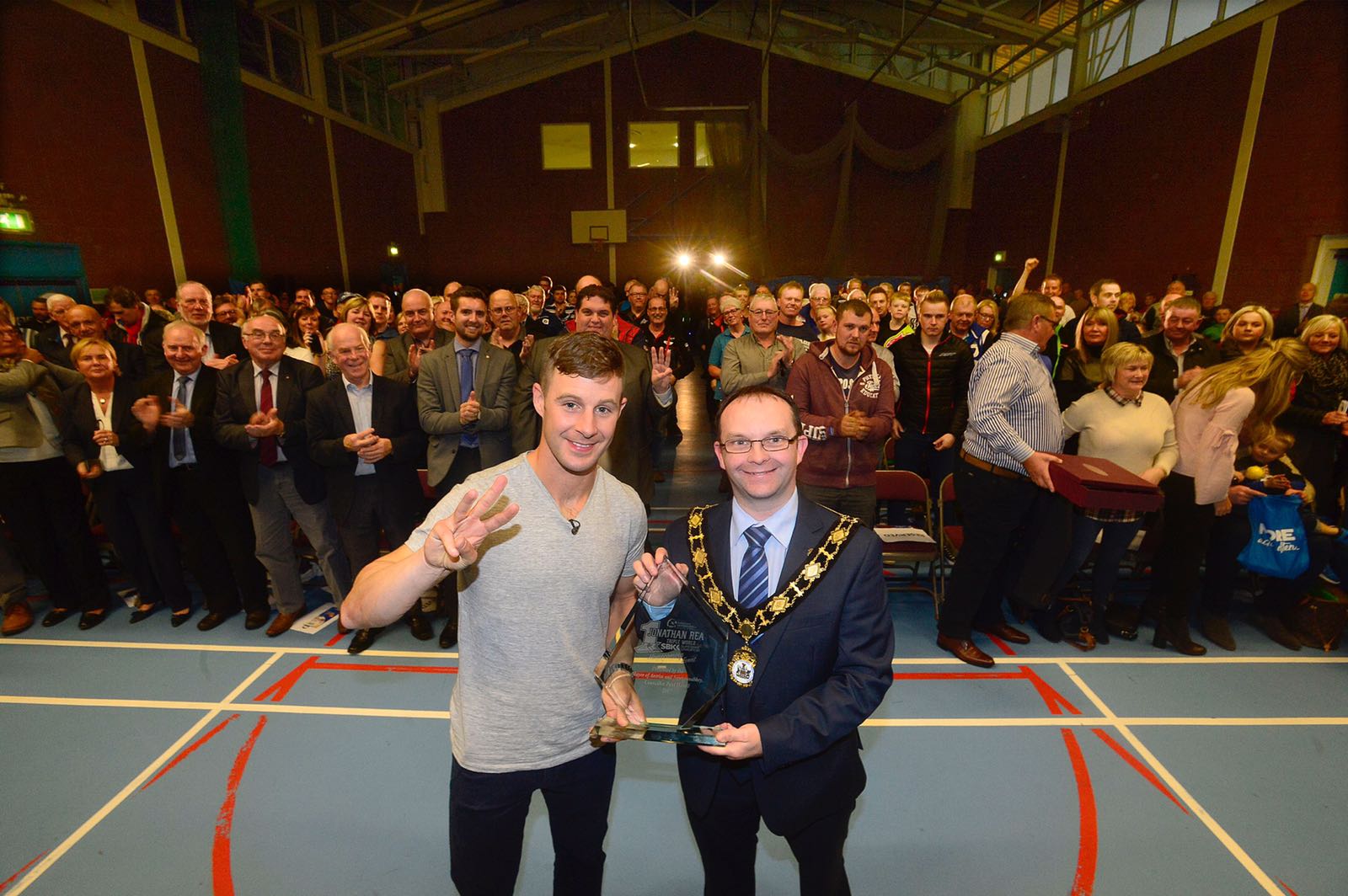 Jonathan Rea returned home to Northern Ireland to a heroes welcome on Sunday evening, hours after becoming the first rider in history to win three consecutive Superbike World Championships. 
Jonathan was racing with his Kawasaki Racing Team in round 11 of the 2017 championship in Magny Cours, France where he took victory in the first race of the weekend on Saturday.  In what was his 12th win of the season and 50th of his Superbike career, he secured an unassailable lead in the standings and was crowned World Champion again.
On Sunday he was unable to finish race 2, suffering a foot injury when he was unfortunately hit by the bike of another rider, who had crashed.  After a quick medical check, and the all clear, the celebrations could begin in earnest.
Jonathan flew directly from Nevers, in central France, to Belfast with his family and a BBC NI film crew where he was met at City Airport by hundreds of well wishers.  Among them was countryman Brian Reid, himself a double world champion in the Formula TT class in 1985 and 1986.
Finally catching his breath on Monday after the overwhelming reception at the airport, Jonathan headed to the BBC NI studios for a round of TV and radio interviews.  It was then on to Ballyclare in the evening for a true homecoming. His hometown community turned out in force at the Six Mile Leisure Centre in the town, to the point that huge crowds had to wait outside in the cold autumn evening to catch a glimpse of the champion.
Jonathan then paid a visit to the Northern Ireland football squad ahead of their World Cup qualifier match against Germany on Thursday evening, hoping part of his own success can rub off on the players as they bid to qualify for the 2018 World Cup finals in Russia.
The round of press activities and personal appearances continued on Wednesday with Jonathan visiting a number of local radio stations around the Province. 
To cap the fantastic, emotional week it was on to Windsor Park on Thursday evening to watch Northern Ireland play Germany in that World Cup qualifier.  Before kick off Jonathan was pitch side to be introduced to the capacity crowd, receiving a rapturous welcome from the 18,000 fans.  Unfortunately the current FIFA World Champions were too strong for Northern Ireland on the night but the Green and White Army know that their team are still in with a realistic chance of reaching the play-off matches for a place at the Finals in Russia next year.
Rea will now return to his adopted home in Isle of Man for a few days of rest and recovery.  He will then visit the Monster Energy Cup Supercross event in Las Vegas next weekend before heading to Jerez for the last European and penultimate round of the 2017 season.
Jonathan Rea said:  "It's been a whirlwind week and I've enjoyed being back in Northern Ireland after winning my third straight FIM World Superbike Championship. It's difficult to put into words the emotions I've felt this week but one thing that has stood out has been the support I have received from everyone there. It was particularly special to be introduced to the amazing fans at Windsor park last night and also meet all my local fans at the official homecoming event in Ballyclare. I'm very proud of my roots and the travelling support I've had these last years so I was so happy to be able to meet a lot of the fans and give something back. Their support means the world to me."