Double Podium In Assen For Rea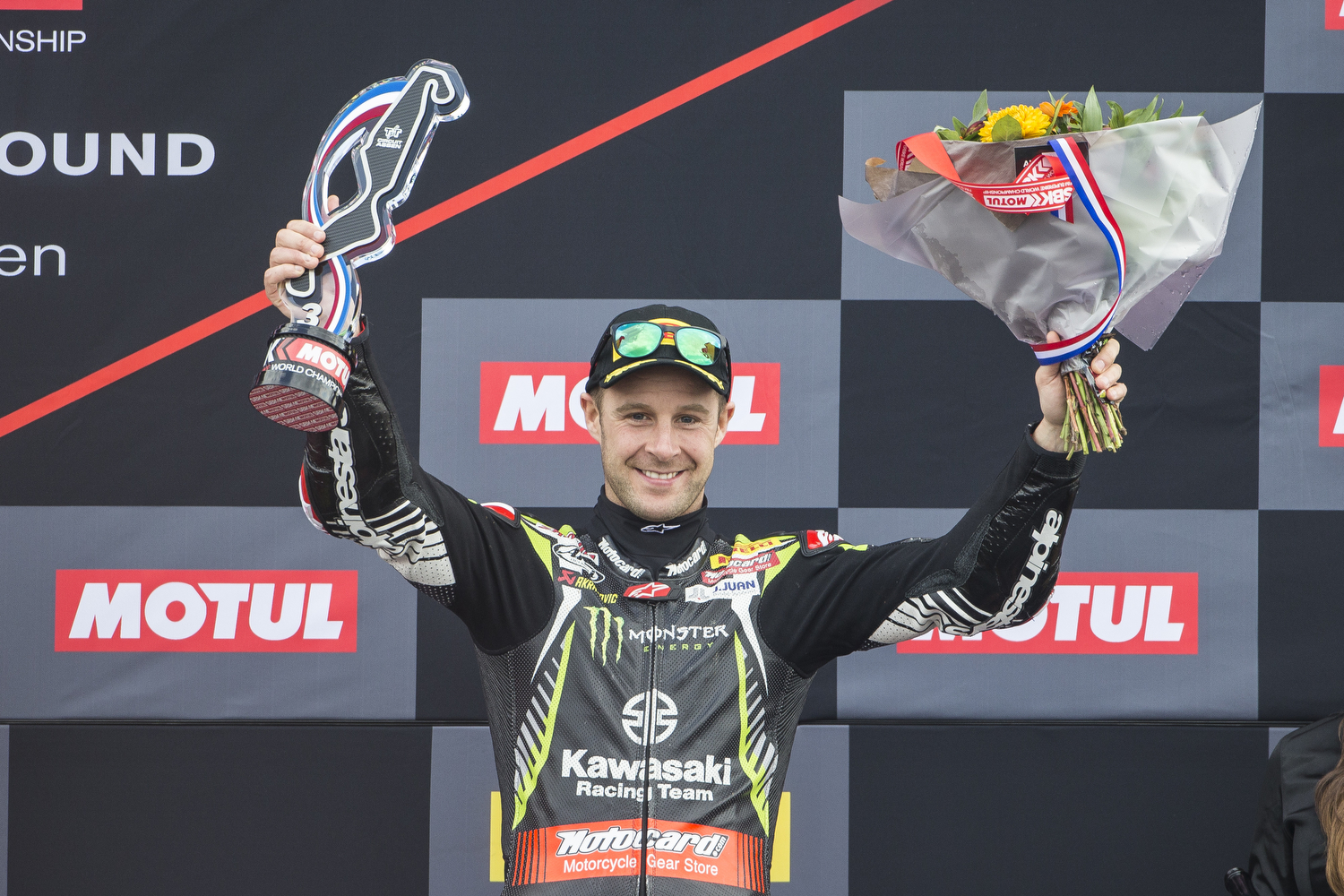 After the postponement of the first planned race from Saturday to Sunday, both of Assen's 21-lap races took place today, with Kawasaki Racing Team rider Jonathan Rea scoring first a second and then a third place finish. 
Under sunny skies, but in bitterly cold conditions, the first race took place at 11am, with Rea starting from eighth on the grid. Rea worked his way through the field in the early laps, eventually reaching second place from lap eight where he stayed until the chequered flag. 
In the second race Rea hit the front very early and led for the first five laps but couldn't hold off the hard charging Alvaro Bautista on the new for 2019 Ducati V4.  Jonathan was then under pressure from Michael Van Der Mark (Yamaha) behind, and the pair would eventually cross the line together, with the Dutchman nipping second place by 0.018s.
After Assen Rea is still a clear second in the championship points table, having finished second ten times in 11 races, and third in the remaining one today. He sits 53 points from the lead with his total of 183
The next round of the championship will take place at the parkland circuit of Imola, in Italy, between the 10th and the 12thof May. 
Jonathan Rea, stated: "I felt good in the fight and my team gave me a good bike to fight with and keep the gap quite stable for a while. I enjoyed today and it was like good old Superbike, two long races in one day. I feel like the only difference today was that I had a shorter time to take lunch and prepare for race two. But it was not anything extraordinary. I really feel like we maximised our potential with the bike this weekend. I felt good with the bike and we were stronger in some sectors and weaker in others compared to Alvaro. Even in the cold conditions I felt like the grip level was really, really good but at the end when the tyres were dropping, I lost a lot of grip. The bike became more physical to ride. Apart from that I was very impressed with the potential of the tyres and I was able to run quite consistently in the start to middle of the second race. I am pretty content.